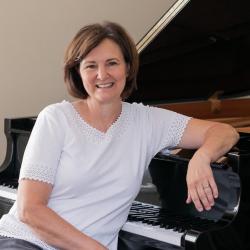 Are you looking for a piano teacher who will: 
- See the preciousness in your child and help them shine? 
- Gently guide terrific technique right from the start? 
- Help your child enjoy playing beautifully? 
Contact Marcia for a complimentary lesson to evaluate if the teaching system she uses would be a good fit for your child. 
Marcia Johnson is a graduate of the BYU Piano Department, an accomplished musician, and a Licensed and Credentialed teacher of the Peery Method. 
Ms. Johnson began teaching piano in High School and has been teaching or practicing with students ever since. She performed with the Phoenix Symphony in High School and has studied at The Music Academy of the West in Santa Barbara, CA and at BYU where she played in recital as accompanist with several faculty members as well as with the Deseret String Quartet. 
Ms. Johnson is a former member of the Mormon Tabernacle Choir. 
The Peery Method takes the highest level Classical Conservatory piano playing principles and distills them down so that they are useful to the everyday student. It teaches a recreational player how to shape a phrase, play musically and sound like a professional Classical pianist.  Because Peery trained students are taught correct principles from the beginning, if they choose to put in more time and training at any point in their piano journey, they will have the proper Habits to support them in whatever path they choose.   
Availability:
Accepting new students
Teaches adults
Remote lessons available